*the following post was originally posted on July 1st, 2008 on my Zaadz blog (which has been discontinued). This was the first post of an on going series of posts I'm calling "Awakening Integral".

Awakening Integral: Part 1 – Ideas are Bullet Proof
When speaking about "Integral" in the context of next wave of consciousness it can be defined in many ways. Through my contact with
Diane Hamilton
(Zen sensei,
Big Mind
facilitator, and senior teacher at
Integral Institute
) I have come to greatly appreciate the fundamental definition she gives to the term "Integral". Being "Integral", Diane says, means nothing less than
having the ability to take multiple perspectives
. This is important to understand.
Having the ability to take multiple perspectives.
So, how does this happen?
As an individual evolves, their consciousness expands into increasing circles of care, concern, complexity and inclusiveness. From ego-centric, to ethno-centric, to word-centric, to kosmo-centric. Ones perspective expands from my perspective, to my people's perspective, to all the humanities perspective, and finally to the perspective of all living Beings.
In the trajectory of this process the developmental line that tends to lead the way forward is the cognitive line. This means that before one can take a perspective, one must be able to imagine that perspective. The potential must be allowed to awaken within the mind of an individual, or group of individuals. This is a prerequisite for conscious evolution. Only when one can cognitively take a perspective can they then to feel into it, try it on, inhabited it, live it and finally, establish it in consciousness. First learn to talk the talk, then with practice, learning to walk the talk.
Conscious evolution always starts as potential in the mind. And the first inkling of movement of this evolution begins with a thought, an idea, and imagination. All abilities of any perspective begin with an idea.
~ ~ ~
In 2007 the movie "V for vendetta" was released. The screenplay was written by the Wachowski brothers of  "The Matrix Trilogy" fame. In the integral scene it is well known that the Wachowski's are integrally informed and good friends with Ken Wilber. So it is no surprise that "V for vendetta" is full of integral perspectives ranging from the movie's themes, to it's philosophy, the characters, the script, it's message, it's imagery and it's cinematography. Including, of course, it's inspiration.
I won't go too much into the plot here but as a context I'll say that it is basically a story based on the "pre-trans fallacy" and the confusion of what is a "freedom fighter" vs. what is a "terrorist". The time is a not too distant future where the world has fallen into war, anarchy, and chaos and only "England prevails" thanks solely to the vigilance of it's elected government.
A jack-booted fascist regime that slid into power after a series of dubious terrorist attacks against England that killed thousands and left the public in total fear. Through shameless manipulation of a complacent societies fear the state easily managed to imposed martial law and completely erase all civil liberties. Their motto "Strength through unity, unity through faith" basically means "you had better be with us, only we can protect you, don't ask any questions!".
Enter our hero V. A masked man who dares to stand up against the state with explosively dangerous actions, and even more dangerous words. His actions get the attention of the masses, but his words stir their hearts and shake their complacency. Personally, I was totally hooked on this movie in an early scene where V hijacked the national TV station and gave a revolutionary broadcast where he said the following:
"Fairness, justice and freedom are more than just words. They're perspectives."
Integral rocks! It isn't necessary to go into any of the films other themes here,  like Natalie Portman's satori experience, or Chief Inspector Finch's awakening to the integral view (see up-coming blog!), vengeance vs. justice, V's own ego-centric actions, or the film's homosexual perspectives. Rather, here I'll just stay with the transformation V brought to the world through his perspective.
With his actions, and even more so his words and ideas, V lead the people beyond an ego-centric and ethno-centric based fear that limited and controlled them. He challenged the status quo and brought the masses into a world-centric, and even kosmo-centric perspective that could no longer tolerate the powers that be and their culture of fear. V's actions certainly got the publics attention (with his bombs, broadcasts, bloody knives and karate gimmicks), but it was his words that had the real power to moved them. By holding his perspective with his thoughts, words and deeds, V awakened the people's potential, awakened their ideas, and awakened their imagination. And a revolution was borne.
Here is the climax fight scene from the movie between V and the "stasi" like "fingermen" of fascist state. It is a bit on the violent side, but only in a comic book sort of way.  Pay attention to V's final words of the scene. They say it all.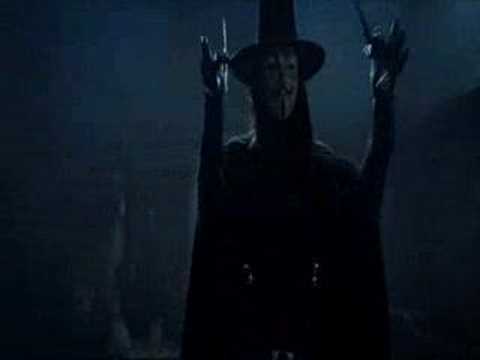 Mr. Creddy: Die! Die! Why wont you die? Why wont you die?
V: Beneath this mask there is more than flesh. Beneath this mask there is an idea Mr. Creedy. And ideas are bullet proof.
~~~
On a reletive level we are all different. But at the level of consciousness, at the level of ideas, at the level of our true potential, we all belong to one integrated whole. This perspective  may be a reach for some as it's possible it has not yet risen in consciousness. But it will arise if we grow. And when it does we will see that at this level we truly are bullet proof.